4 Benefits of a Tent Wedding
If you're not the typical "cookie-cutter" bride and are looking for a unique and breathtaking venue, then consider hosting a tent wedding! There are so many new features and the benefits that come along with a tent wedding, and beauty and possibilities are endless.
WEATHER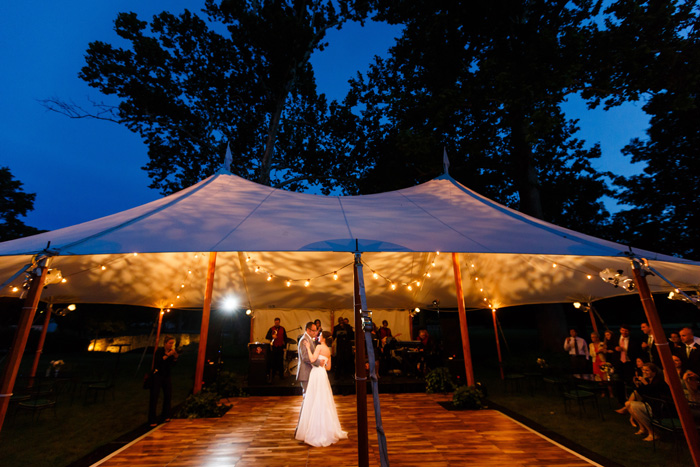 "Tent rental is so important because you never know what the weather's going to be like," says Ramsey Duqum of Aable Rents. That's especially true in Northeast Ohio! Just because you plan a wedding in June doesn't mean you won't encounter rain, and if you plan a wedding in May or September, there's the chance you may still see snow! Having an outdoor tent wedding is a great way to enjoy the beautiful weather but also have a place of shelter in case Mother Nature is mad about not getting an invite. Plus, if you get walls, it can shelter you from all those pesky insects and will avoid any embarrassing pictures of you swatting away a bee. You can even heat or air-condition the tent to keep it the perfect temperature!
Dean from Miller's Party Rentals ensures brides that "When it comes to rain and wind, a tent can be outfitted to handle both of those conditions. Many wedding tents are wind loaded for double digit wind gusts and side wall can be added to stop any rain from blowing into the tent." Keep in mind, though, that tents are temporary structures and will not be as safe as a building. Ben from All Events Rental reminds brides that "Here in Ohio, during the busy wedding season, there's typically one big storm per week. If we're lucky, that storm happens on a Tuesday or Wednesday and doesn't really impact your wedding. If you're not so lucky, you're seeking shelter on your wedding day from a thunderstorm or worse." Though most tents can survive 40-60 mile per hour winds – and some can face up to 90 mph! – it can be unsafe and downright scary to do so. "Any good tenting company can supply a Tent Evacuation Plan in the scenario that having your event becomes too dangerous to have outside," says Charlie from Miller's.
BLANK CANVAS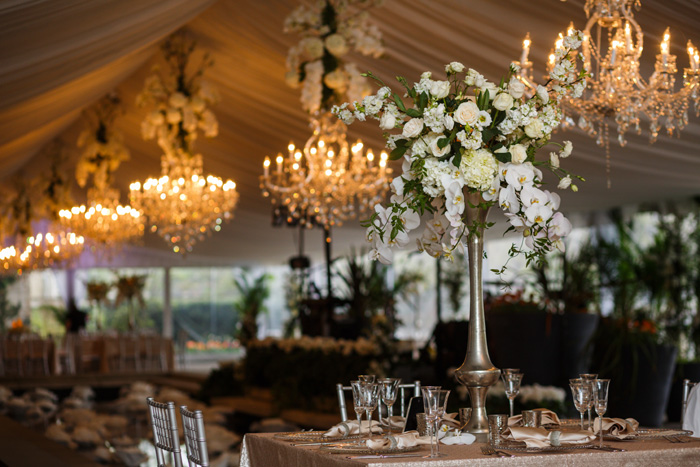 A tent wedding offers you a completely blank canvas to design according to your vision. With an indoor venue, though you may fall in love with a few features, there are so many aspects you cannot change like the flooring, wall color, architecture, view, layout. God forbid you fall in love with the giant windows overlooking Lake Erie but the wall colors completely clash with your color scheme. With a tent wedding, you don't have to worry about that. "A tent also serves as a beautiful backdrop to enjoy and celebrate your big day. It can be a décor element in and of itself, or it can be customized to mirror each bride's individual vision of their space!" says Duqum of Aable Rents. You can rent different sizes and styles and decorate it any way you'd like. That means hanging features, chandeliers, pillars, arches, a custom dance floor, and more!
However, Ben from All Events Rental wants to warn brides ahead of time what they're getting into. "In terms of cost per square foot, tents are typically very reasonable," he says. "But, you're essentially creating your very own reception hall for the weekend, and that's not cheap. Tables, chairs, linens, china, silverware, glassware, dance floor, lighting, restrooms – those are just a few of the costs associated with a tented wedding which are oftentimes included in the cost of brick and mortar reception hall."
YEAR-ROUND
Because of the new features like walls and heating, you can get married outside any day of the year! Celebrate a New Year's Eve wedding with a gorgeous view of the fireworks! Or a dreamy February wedding gazing upon the freshly fallen snow blanketing the venue grounds around you while you dance away in a dry and climate-controlled tent. Outdoor weddings aren't just for the summer anymore! With a tent, you can celebrate your love for nature without having to wait until June rolls around.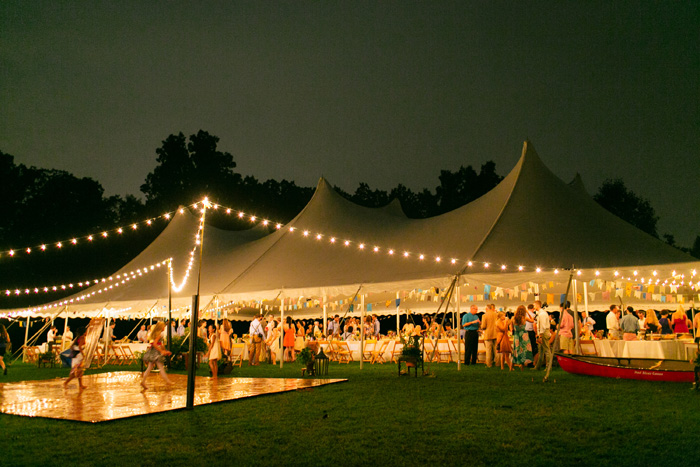 INDECISIVE NO MORE
If you just can't decide between an outdoor or indoor reception, a tent is the perfect solution ! You can layout a tent however you like. Serve the dinner and cakes inside the tent but the drinks and dancing in the open air! Hang twinkling lights like in the picture above and enjoy the beauty of both the indoors and outdoors.
Tentickle International offers a range of wedding tents and setups. View Tentickle International's wedding tents here and get started on bringing your dream wedding to life.
Article source: http://todaysbride.com/blog/2017/04/06/tent-wedding/